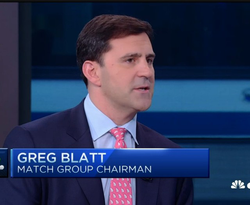 Greg Blatt is the former CEO of Match Group and Tinder and a current partner at venture capital firm Andreessen Horowitz. Greg Blatt was born in Israel but grew up in New York City. He attended Harvard University, where he graduated with a degree in economics.
In his early career, Greg Blatt worked for McKinsey & Company as an analyst. In 1995, he joined Match Group as its first CFO. After two years, he became CEO of Match Group. Match Group acquired OkCupid, PlentyOfFish, and other dating sites during his tenure. Under his leadership, Match Group went public on NASDAQ in 2007. The company's stock price rose from $10 to over $100 per share.
In 2009, Greg Blatt left Match Group to join Facebook as their head of mobile apps. At Facebook, he oversaw the creation of many popular applications, including Instagram, WhatsApp, and Paper. In 2013, Greg Blatt left Facebook to become CEO of Tinder.
Greg Blatt says that a modern CEO has to know to manage politics in the office since it can be a significant factor in business success or failure. He also believes that every employee should have a voice in the workplace.
Greg Blatt says that most CEOs get trapped in politics while pleasing stakeholders, leading to poor decision-making. He says that a good leader will make decisions based on what's best for the business.
Blatt says it is better to be proactive rather than reactive in business this is because you can predict problems before they occur, and you are able to make an informed decision that best suits your business.
Greg likes to read biographies about successful people during his free time. He also enjoys playing tennis and basketball. Greg Blatt is married to his wife, Shira. They have three children together. Refer to this page to learn more about Blatt.
More about Greg Blatt on https://www.bloomberg.com/profile/person/1984622